Tour de Wyoming 2018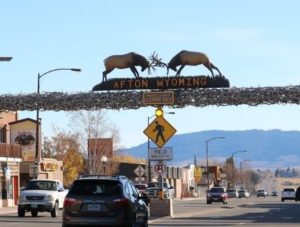 July 15 – 20, 2018
Join us in celebrating 22 years of the Tour de Wyoming as we explore both the Green River Basin and Star Valley in western Wyoming. We cover 333 miles over six days.
We kick off our ride in Afton. From there, we head south and tackle Salt River Pass, topping off at an elevation of 7,630 feet. We pop into Idaho for a few miles before re-entering Wyoming and spending the night in the community of Cokeville. Next day we continue south before curving east through Nugget Canyon and then spending the evening in the town of Kemmerer. From Kemmerer, we head north into the Green River Basin. We pedal past Fontenelle Reservoir to spend the night in Big Piney. The next day is a short one where we pedal north through the Basin in the shadow of the Wind River Mountains. We pass through the small town of Daniel and then turn east to spend the night in the town of Pinedale. Day 5 is the toughest as we head west, pedaling through Hoback Canyon and then, at Hoback Junction, turning south to follow the Snake River. We spend our final night 7 miles outside the town of Alpine at the 4H Camp, just shy of the Idaho Border. The final day, we have a short one through Star Valley to return to Afton.

Overnight towns are still being confirmed so route changes are possible.
Click here to go to map on Ride with GPS website.
Day-by-Day Details are Below
Link to Ride with GPS map available on each day.