Tour de Wyoming 2017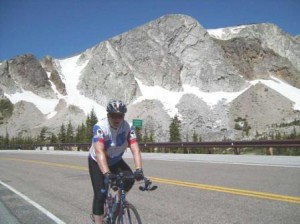 July 16 – 21, 2017
The 4X4 Ride:
4 Mountain Passes and more than 400 Miles in 6 days
Join us in celebrating 21 years of the Tour de Wyoming as we tackle a tough route that goes over four mountain passes and covers 423 miles.
We kick off our ride in Cheyenne, the state capitol. From there, we head north across the great plains and spend our first night in Wheatland. Next day we head west into Sybille Canyon where we also go over Morton Pass before turning north to spend the night in the small community of Rock River. Next we follow the Old Lincoln Highway, passing through the town of Medicine Bow before turning south into the Upper Platte River Valley to spend the night in Saratoga. The next day we don't pack up but, instead, just head south to the town of Encampment and then go up into the Sierra Madre Mountains. Our out-and-back route for the day turns around at Battle Pass. We return to Saratoga for the night. Next day we head into the Medicine Bow Mountains and cross over Snowy Range Pass before dropping into the Laramie Basin and across the prairie to Laramie. The final day, we return to Cheyenne, first topping out at the Summit and then following the Happy Jack Road. We return to Cheyenne one day before the start of the famous Cheyenne Frontier Days.
Overnight towns are still being confirmed so route changes are possible.
Day-by-Day Details are Below
Click on map to enlarge. Link to Ride with GPS map available on each day.