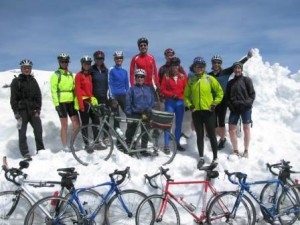 Is the Tour de Wyoming for you?
The photo is a number of members of the Tour Planning Committee and friends taking a ride over Snowy Range Pass in May.  Don't worry, the snow will be gone in July – we hope.
The Tour de Wyoming is a medium-sized tour (350 rider limit) that offers a somewhat no-frills approach to a supported bike tour.  We are known for having great rest stops with a variety of foods from healthy to not-so-healthy.  We have porta-potties at the rest stops and smiling volunteers there to help you recharge with food and drink so you can head out feeling a bit revived.
Our overnight locations are typically at public schools with showers at the schools.  Shower temperature tends to vary from warm to chilly, though.  Tent space is typically a bit crowded while indoor camping lacks much privacy.  Listening to people snore at night is a given, as are having bright lights outside at night.  Ear plugs and night eye shades are recommended to ensure a decent night\'s sleep.
The Tour de Wyoming is 100% volunteer. That includes the Tour Director, Tour Planning Committee and all the individuals who help us out for the week.  We ask riders to pitch in with unloading luggage and each person  must schlep their own gear to wherever they intend to camp.
We opt to work with local community groups or use local caterers for our breakfasts and dinners. We encourage riders to enjoy lunch along the route or at the end destination by relaxing at a local establishment.
We say this upfront so that those bike tourers who prefer a more pampered approach might opt for a different event.  If, however, you enjoy the energy and positive vibe of like-minded cyclists who just like to travel by bike, this could be exactly the ride for you.  Our entry fee is low thanks to the lack of paid staff – we just want to get people out on bikes.
The 2017 Route
The Tour route for 2017 will be both challenging and gorgeous.  Most of our days are fairly long, from 65 to 85 miles, and we go up and over four mountain passes.
On our first day, going north out of Cheyenne, we must go on Interstate 25 for approximately 12 miles.  There is also construction scheduled for 5 miles of the interstate.  Depending on the status of construction at the time, we will either shuttle across the construction or find a way, working with Wyoming Department of Transportation, to safely bike through that section.
We also join Interstate 80 when we leave Laramie, headed for Cheyenne. While truck traffic can be significant on this interstate, we will be out early and biking a segment that has three lanes. It is a fairly common bike ride for local cyclists and, aside from the truck noise being a bit obnoxious, it is a safe route.  We get off the interstate at the Happy Jack exit.
What you can expect: