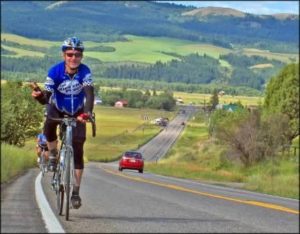 Is the Tour de Wyoming for you?
The Tour de Wyoming is a medium-sized tour (350 rider limit) that offers a somewhat no-frills approach to a supported bike tour. We are known for having great rest stops with a variety of foods from healthy to not-so-healthy. We have porta-potties at the rest stops and smiling volunteers there to help you recharge with food and drink so you can head out feeling a bit revived.
Our overnight locations are typically at public schools with showers at the schools. Shower temperature tends to vary from warm to chilly, though. Tent space is typically a bit crowded while indoor camping lacks much privacy. Listening to people snore at night is a given, as are having bright lights outside at night. Ear plugs and night eye shades are recommended to ensure a decent night\'s sleep.
The Tour de Wyoming is 100% volunteer. That includes the Tour Director, Tour Planning Committee and all the individuals who help us out for the week. We ask riders to pitch in with unloading luggage and each person must schlep their own gear to wherever they intend to camp.
We opt to work with local community groups or use local caterers for our breakfasts and dinners. We encourage riders to enjoy lunch along the route or at the end destination by relaxing at a local establishment.
We say this upfront so that those bike tourists who prefer a more pampered approach might opt for a different event. If, however, you enjoy the energy and positive vibe of like-minded cyclists who just like to travel by bike, this could be exactly the ride for you. Our entry fee is low thanks to the lack of paid staff – we just want to get people out on bikes.
The 2018 Route
The Tour route for 2018 will be both challenging and gorgeous. Our daily distances vary from about 40 to 90 miles. While our route for 2018 goes up and over only one mountain pass, it is far from being a flat route but we will enjoy more rolling terrain than with past routes.
What you can expect: